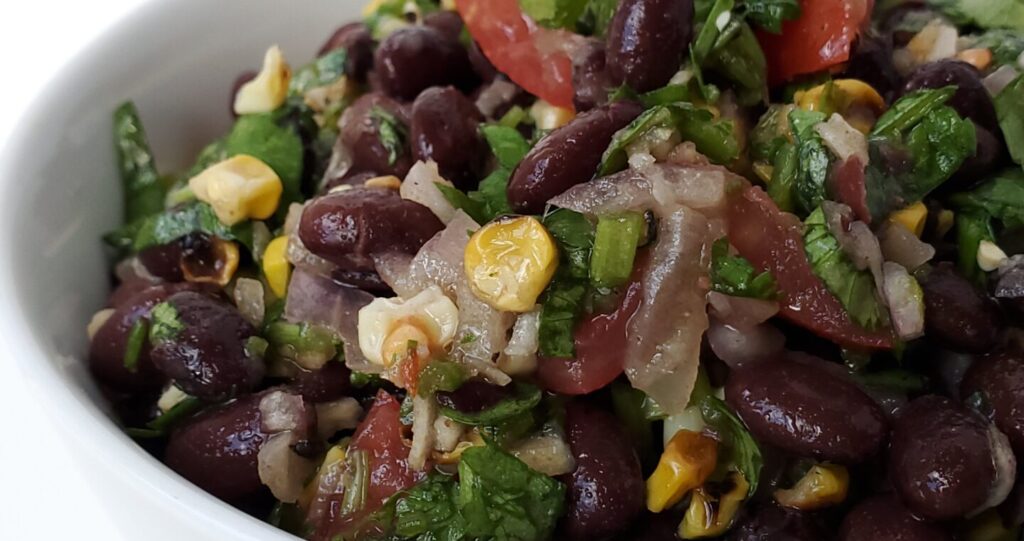 The bounty of the harvest season is FINALLY upon us. Right now in southern Ontario, many fruits, vegetables and grains are ready for eating including corn, apples, and squash to name a few. Not only are these foods delicious with their natural sweetness, but they are at their prime nutritional peak! This is why it's always a great idea to eat in season.
This recipe features one of the most abundant crops fall has to offer: fresh corn! Corn is a source of minerals like magnesium, zinc and selenium, and a source of fibre as well. Pair that with the great source of protein in the black beans and the antioxidants like lycopene from your tomatoes, you almost forgot how something this healthy can be so delicious. Another bonus – the vitamin c in the cilantro helps with the iron absorption of the beans!
This salad is savoury, delicious and filling! It makes an excellent pairing for grilled chicken, fish or tofu. Also great as a topping for nachos or as part of a burrito filling. Can also totally be eaten on its own!
Ingredients:
Salad:
1 355 ml can of black beans, well drained
1 cob of corn
1 tomato
1 small red onion
1/2 cup cilantro
2-3 cloves of garlic
Dressing:
3 tbsp olive oil
1-2 tbsp lime juice 
1/2 tsp red pepper flakes
Himalayan salt and freshly cracked pepper to taste
How to make it:
1. Remove husk from cob of corn and grill on high heat for a few minutes until you see grill marks on all sides.
2. Rinse and drain black beans. Lay them on a dish towel to absorb additional moisture (this helps your dressing stick!)
3. Hold cob of corn vertically on your cutting board. Slice down the cob, rotating 1/4 turn after every slice to cut off all kernels.
4. Dice tomato and onion and finely chop cilantro and garlic cloves. Add to a bowl with the corn and black beans
5. Add all ingredients for dressing into a jar or container and shake to combine.
6. Pour over salad, mix well. Can be served immediately room temperature, or put in the fridge and eaten cold.