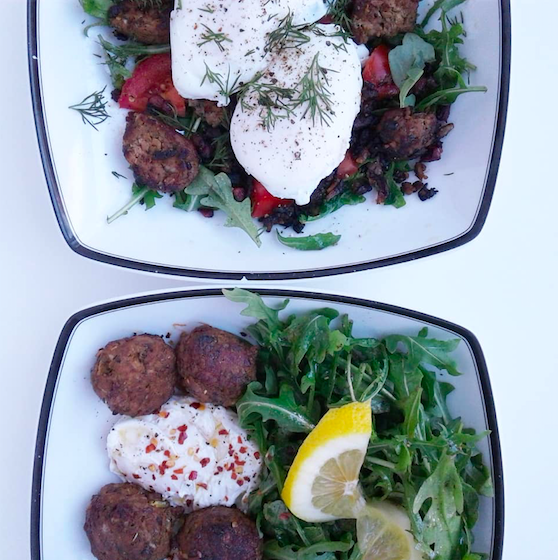 This is a super easy and delicious high protein dish that pairs well with any vegetable or fresh salad and are perfect for a brunch dish (as pictured with poached eggs) . These meatballs are full of herbs and spices that are Greek inspired and can be baked in the oven or sautéed in a pan. Unlike traditional meatball recipes, this one is egg free, dairy free and gluten free as well and literally bursting with savoury flavor!
Ingredients:
900 grams (approx. 2 lbs) ground lamb
2 onions (one red and one white), finely minced
8 cloves of garlic, finely minced
¼ cup white wine
2 tbsp parsley, chopped
3 tsp Himalayan salt
3 tsp garlic powder
3 tsp paprika
2 tsp groud black pepper
2 tsp chili flakes
How to make it:
Mix all ingredients until combined, but do not over mix. Roll into balls 1 1/2" big and either bake for approx. 20 minutes at 350 degrees on a baking sheet lined with parchment paper or sautee in olive oil on a medium high heat for 4 minutes a side.