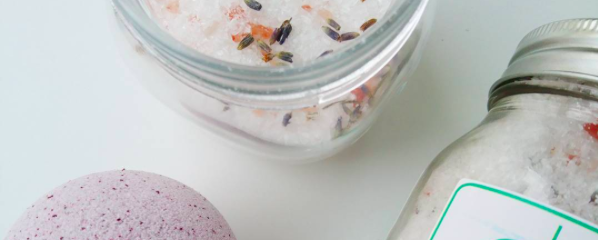 Making a point to have a long soak in some steamy and sudsy water is not something many of us take the time to do these days, unless you're me of course. It seems the fine art of the bath has been lost in this modern time of convenience, to the quick and easy shower. Other than the obvious benefit of personal hygiene, baths have proven useful for centuries to alleviate a number of ailments that any person could face in a lifetime. No disrespect to the shower, but it really doesn't stand up to the advantages of a therapeutic bath. From infants, to children, to adults, there are recipes for everyone to encourage healing and maximize relaxation. Much of the fun of taking a bath is ensuring every detail is to your personal liking and benefit. If you find yourself easily bored or unsatisfied while bathing, or have never really tried it and are not sure where to begin, here are some suggestions:
Schedule some time for peace and quiet! Don't rush yourself, take your time and enjoy the soak. If you can do it at a time when you know you will be home alone, then take advantage of the serene surroundings.
Prepare an environment that you feel comfortable and relaxed in. Ensure your bathroom is organized, or there is no clutter, so you are not distracted. If you intend to have a relaxing bath, play some of your favourite chill out or calming music. Lighting beeswax candles or turning on a Himalayan salt lamp is great for ambient light that is not too bright.
Make an effort to find products you like, and serve a great purpose! Your shampoo and conditioner smell fantastic…but do they nourish your scalp, moisturize your tips and protect your roots too? If you are going to spend the time washing yourself head to toe, why not derive as much benefits as you possibly can from the products you use? Try to find products that contain organically and ethically sourced ingredients like herbs, botanical derivatives and essential oils, and skip the artificial fragrances, colours, preservatives and sixteen syllable chemical additives.
Now that you have an idea of how to start your bath, here are a few simple recipes that you can try at home!
Relaxing Bath
Great for easing sore muscles and unwinding after a hard day.
– 2 Cups Epsom Salt
– 12 drops (1 mL) Lavender Essential Oil
Combine the salt and essential oil into a glass jar. Close the lid and shake to disperse oil. Pour into hot water as tub is filling up. Once dissolved, soak for at least 30 minutes.
Detoxing Bath
Great for improving circulation and drawing toxins from the skin. Intensified by skin brushing beforehand because of the lymphatic system clearing action.
– 1 Cup aluminum free Baking Soda
– ¼ Cup Seaweed (kelp/bladderwrack are popular but whatever you have access to is fine)
– ½ Cup of Sea Salt
Add all ingredients to water as hot as you can stand it and soak for an hour for maximum benefits.
Cooling Bath
Perfect for sunburned skin after a long day outside.
– 5 Bags (or 5 Tbsp in a cheese cloth/linen bag) of Green Tea
– 1 Cup Colloidal Oatmeal
– 12 drops (1 mL) Peppermint Essential Oil
Add essential oil to oatmeal in a glass jar. Put on the lid and shake to disperse essential oil. While tub is filling (not with hot water!), add tea bags and let steep for 5-10 minutes. Remove and add oatmeal and essential oil mixture. Soak in bath for 30 minutes.